The new Mazak VCN BT40 Series is now available with extended Y-axis stroke.
Enhanced cutting performance
Standard Spindle: 18.5 kW, 12,000 min-1 (rpm)
Option: 30 kW, 18,000 min-1 (rpm)
Click to find out more about the Mazak VCN-460 and Mazak VCN-600.
Main Features
Largest table and machining area for this class of vertical machining center
The large table and axes strokes allow the loading of large fixtures and workpieces.
*Max. workpiece dimension is limited when tool exchange is performed.
High-speed tool magazine
The standard tool magazine has a storage capacity of 30 tools. 40 tools are optionally available to minimize complicated tool setup for wide range of workpieces.
The required floor space is the same for both 30 and 40 tool magazine specifications.
| | |
| --- | --- |
| Tool shank | BT No.40 |
| Max. tool length (from gauge line) | 350 mm |
| Max. tool diameter (with adjacent tools) | Φ 80 mm |
| Max. tool diameter (with adjacent pockets empty) | Φ 125 mm |
| Max.tool weight | 8 kg |
| Tool capacity | 30, 40 (Option) |
Extensive machining applications
High Rigidity
Powerful, high torque spindle for higher productivity
Spindle output :18.5 kW / 11 kW (10% ED /cont.rating)
BT No.40, 12000 min-1(rpm) spindle
The 12000 min-1 (rpm) spindle can perform heavy duty machining of steel as well as high speed machining of aluminum with small diameter tools for reduced cutting time.
High accuracy machining can be performed with minimum heat generation by the spindle with ceramic ball spindle bearings.
Heavy duty machining by standard spindle with high output and torque
Material : C45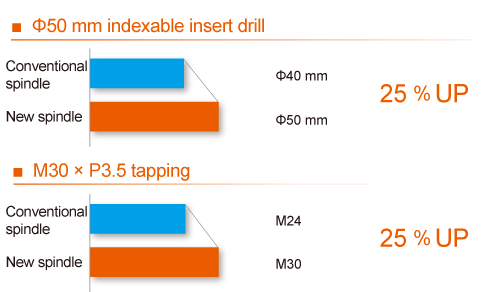 Higher Accuracy
Ai Thermal Shield
New algorithms automatically determine the amount of compensation to be automatically applied according to changes in the temperature to ensure even higher machining accuracy. Ai Thermal Shield is available with the MAZATROL SmoothG CNC control.
Tool length measurement
Tool length measurement & tool breakage detection (Option)
Tool length is automatically measured and registered in CNC system. Tool breakage can be detected during automatic operation.
Small diameter tools which could not be measured by conventional measurement system can now be done to perform high speed, high accuracy tool measurement.
Chip Disposal
Chip bucket pulled out separately on the left and right side
The standard specification comes with chip buckets on the left and right at the bottom front of the machine.
Chip conveyor (discharging chips outside of the machine) (Option)
The type of optional chip conveyor to be selected is based on the type of machined chips to be produced. Spiral conveyors on both sides of the machine table smoothly remove machined chips. ConSep with a drum filter is recommended to remove small chips.
Magnetic separator (Option)
Magnetic separator which is inside the coolant tank separates ferrous chips from the coolant.
Carbon package (Option)
Designed to prevents dust generated during carbon processing.
Environmentally Friendly
High efficiency chiller unit with inverter control
The VCN series is equipped with a chiller unit that has a high energy saving rate due to inverter control.
Energy consumption: Up to 30% reduction
Auto power off for lower energy consumption
Reduce energy consumption by automatically turning off the CNC screen, LED lighting, chip conveyor and cover coolant as well as chiller unit.
CO₂ emissions: 0.2 ton reduction per year
Machining Demonstration